Most people treasure their clothes more than any other item in the household. This does not come as a surprise since clothes are important. They do not make a person but they certainly help to impress. For this reason, when you are moving, you should pack your clothes properly in order to wear them again in your new city. Packing your shirts and pants is not that difficult since you only need to fold them and place them in the moving box. Then, movers Las Vegas will take the box and transport it to your new address. However, what about your suits and jackets? They are usually expensive and demand special care. Therefore, here are all the tips for packing suits and coats for moving. 
Get all the packing supplies 
As with any household item, you need to gather all the necessary packing supplies for your suits and coats as well. You can ask your residential moving companies Las Vegas for some or you can try gathering on your own. In any case, you will need the following. 
Vacuum bags

 

Medium, large, or wardrobe moving boxes

 

Large drawstring trash bags

 

Packing paper

 
After you have all the packing supplies, you need to go over your closet and see which pieces of clothing you will move and which pieces will have to go away. The same applies to your coats and jackets. All the pieces that you have not worn for a couple of years should be donated. Why is this important? First of all, you will save money when hiring interstate moving companies Las Vegas. Second of all, since you will have more free space in your closet, you can buy new pieces of clothing after your relocation.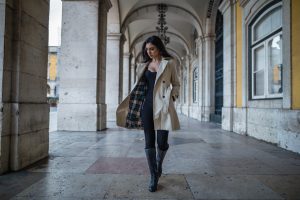 Packing suits and coats for moving – how to do it properly?
Now that you decided which pieces of clothing you will move, it is time to prepare your suits and coats for packing. First of all, you will need to clean and sanitize your suits and coats. Since they are quite delicate, it is not recommended to wash them in the washing machine. It would be wise to take them to dry cleaning. This is especially important if your coats or suits are dirty. Packing them in this condition might cause serious damage.
After this, you should use vacuum bags for your suits and coats. It would be also smart to keep them on hangers if you can. Tie all the hangers with a garbage bag. In addition to this, you can also use your suitcases only for your suits and coats. Packing your clothes for relocation can be quite simple when you know how to do it. Another thing that you can use here is hanger boxes where each and every piece of clothing is properly secured even when you do not fold them.
Other important hacks
Since packing suits and coats for moving needs special care, you can also use garment bags. Then, place these bags into wardrobe boxes and separate them from the rest of the clothing. In addition to this, do not forget to label these wardrobe boxes. This way, your movers will know that these boxes contain your suits and coats so they will place them in the safe part of the moving truck. 
Use moving services when packing coats and suits for relocation
Even though this may seem like a simple task, a simple error can ruin your suits. After all, some suits and coats can be expensive and you do not anything happening to them. So, if you want to handle this task professionally, there is always an option for you to use relocation services Las Vegas from a reputable mover and let them take care of your coats and suits. Naturally, this will mean that you will have to pay for their services.
In order to check whether you are good with the terms and the potential price of your future move, you need to learn about Las Vegas movers prices. The best way to do this is to get moving quotes that are basically estimations of how much your relocation and packing services of your suits and coats are going to cost. Have in mind that a lower price does not immediately mean that the movers are bad!
Donate the excess items that you do not need
We should address this matter more. The reason for donating items when moving is usually when you have too much stuff that you want to move. Even though properly packed suits and coats do not have to take up too much of your space, if you have too many of them, it could make everything much harder. On top of that, you will pay more if you have more items that you want to move. So, consider donating your clothes because they will definitely be useful, even if they are suits. We should not even mention the use of coats…
Packing your coats and suits does not have to be a major issue when moving
We understand why people have problems with packing suits and coats for moving. If you have more expensive pieces, you may worry that you will not do a fine job and that something will get ruined. But, you should always try. If you use the tips on this list properly, you should not have problems with this matter. You should trust yourself and do all the work. On the other hand, if you need help, you can always use it. Even if you realize at the last possible moment that you can't handle this matter, you can call same day movers Las Vegas and let them take care of everything. As you can see, there is a solution for everything. You just have to find it!